Guide to install on Windows
First remove any previous version and the related GNUstep packages, if any.
You need donwload the following packages:
Now install the packages in the order that these are listed. Active the theme WinUXTheme when install the Core package, see image below: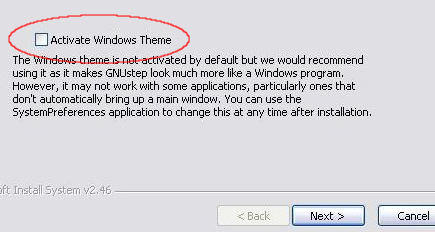 You don't need change other options. After install all, you can launch the app from Start -> Applications -> FisicaLab -> FisicaLab.
If you miss activate the theme at installation, run the Shell at Start -> Applications -> GNUstep -> Shell and write:
defaults write NSGlobalDomain GSTheme WinUXTheme
and hit RETURN.
NOTES
On Windows systems you can't write the character @, needed to use conversion factors, with the combination Alt-64. You need write this character with the key Alt or Shift in combination with another alfanumeric key.
Known problems
The mouse cursor don't change when you add or move elements on the chalkboard, as must be.